We at Saraswathi Yoga & Dhyan Center are dedicated to the ideal of yogic life. To speak straight, we believe that yoga is a cure for all types of physical and mental illness in today's world. The yogic framework with its philosophy and practice helps us to integrate our thoughts, feelings and actions towards a holistic purpose.
In today's world of multiplicity of ideas and views that are far separated from the natural appreciation of oneself and the world around, practicing Yoga consistently can help an individual to live a life of harmony, sensitivity and love. Yoga being an art/spiritual form of practice can relieve you of the distressing and unappreciative patterns of the mind.
We offer different programs (Classes) to meet the varied requirements of our clients. Physical fitness, Weight reduction, mental focus & stress relief, increasing energy levels are some of the reasons for which people approach us. Whatever goal you may have for your Yoga practice, we offer you the most encompassing program that will enable you to fulfill the known/unknown needs of your mental and physical planes.
New Book Releases
Saraswathi Yoga and Dhyan Center has released a new book on the philosophy of Yoga. The book covers the essential aspects of Yoga relevant to our lives. What is Yoga and how we walk on this path to achieve fulfillment and oneness within ourselves? This book explains.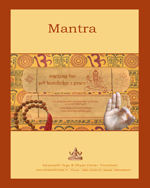 This booklet features mantras from Vedas that are intended to provide Self-Knowledge [Jnana]. Mantra verses are presented with contextual information and explanation of Sanskrit terms.
Saraswathi Yoga Center can be contacted through email [sanpansky@gmail.com] to purchase the following books.